A centrifuge tube factory is a manufacturing facility that specializes in producing centrifuge tubes. Centrifuge tubes are commonly used in laboratory settings to hold samples and solutions during centrifugation, a process that separates components of a mixture based on their density.
The factory would typically use specialized equipment and materials to produce the tubes, such as molds for shaping the tubes, high-quality plastics or glass for the tube material, and automated production lines for efficient and precise manufacturing.
Centrifuge tubes are commonly used in laboratories for separating and isolating components of a sample based on their density and size. The tube is a small, cylindrical container with a tapered bottom that allows it to be placed in a centrifuge, which spins the sample at high speeds.
Some common uses of centrifuge tubes include:
Separating blood components: Centrifuge tubes are commonly used in medical laboratories to separate blood components such as plasma, serum, and red blood cells. By spinning the blood in a centrifuge tube, the heavier red blood cells are separated from the lighter plasma or serum.
Purifying DNA or RNA: Centrifuge tubes are also used to purify DNA or RNA from a sample by isolating it from other cellular components. The centrifuge separates the DNA or RNA from the rest of the sample by density, allowing for purification of the nucleic acid.
Separating organelles: In cell biology, centrifuge tubes are used to isolate and study specific organelles within a cell. By spinning a sample containing cells and their organelles in a centrifuge tube, the different components of the cell can be separated based on their density and size.
Pelleting proteins or cells: Centrifuge tubes are used to separate proteins or cells from a liquid by spinning them at high speeds. This allows the proteins or cells to be collected at the bottom of the tube, known as "pelleting."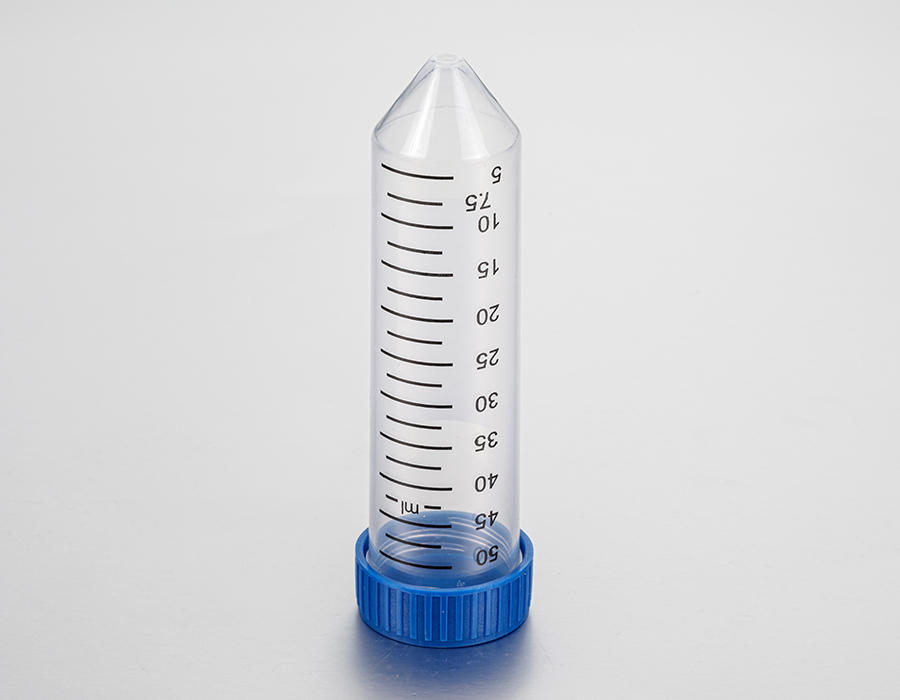 Plastic conical end 50ml centrifuge tube